At Skin Heath Institute we are committed to providing quality care that preserves the safety and wellbeing of our patients.
To ensure that our customers/patients receive the best possible care, we have implemented several Quality and Safety improvements that assist us in striving for excellence.
In Australia, all day hospital procedures must meet the National Safety and Quality Standards to gain Accreditation. SHI day procedure is currently accredited until October 2025.
At the Skin Health Institute, our number one priority is to ensure the safety and wellbeing of our patients/consumers, staff, visitors and contractors whilst delivering high quality patient-centered care. Clinical Governance encompasses the systems, relationships and responsibilities by which the Institute achieves and continuously improves on this priority whilst maintaining a positive and supportive environment for our staff. Our management and staff share responsibility and accountability for maintaining patient safety and minimizing risk to our consumers. We actively seek patient/consumer feedback to continually improve our services.
Our clinical governance committee is responsible for ensuring that all quality, safety, credentialing and risk management systems, including actions listed under the National Safety and Quality Health Service Standards (NSQHSS) are implemented across the whole Institute. The committee develops strategies for short and long-term risk management as well as also ensuring that our organisation responds appropriately to any safety or quality matters. The committee meets four times per year and reports regularly to the Board.
Our clinical governance is modelled on the Safer Care Victoria clinical governance framework which outlines the five domains that underpin the provision of delivering high quality health care at the Institute: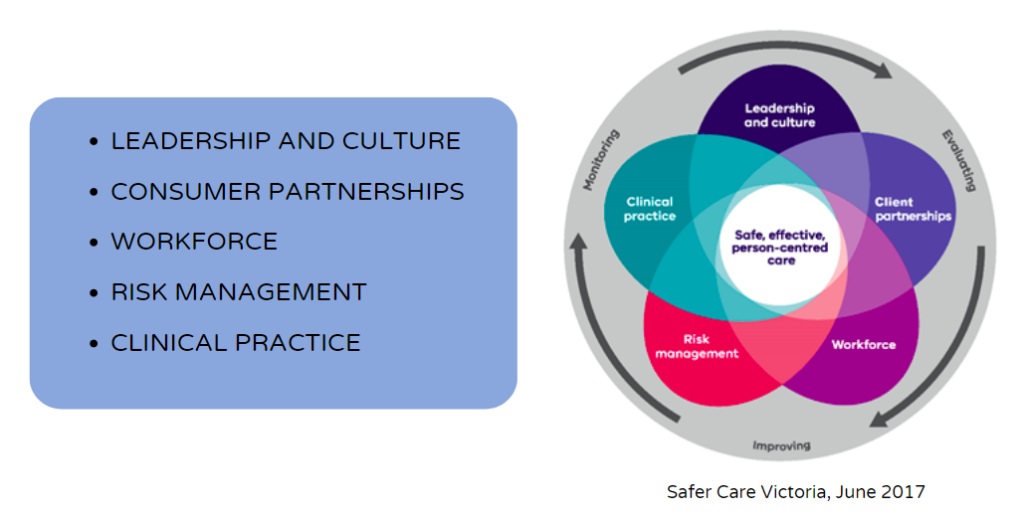 To find out more about the NSQHS standards and background information to clinical governance framework, you can visit: