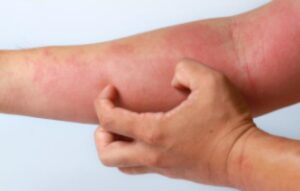 RESEARCH STUDY FOR NAIL AND BODY PSORIASIS (76 WEEKS)
Adults aged 18 years or older with moderate to severe nail and body psoriasis, may qualify to receive investigational medication (active study drug) or placebo, via subcutaneous injection.
To be eligible, participants must have chronic, moderate to severe plaque-type psoriasis for at least 6 months. Psoriatic involvement of 10% or more body surface area (BSA) is required in addition to nail involvement/psoriasis. Participants must be considered candidates for systemic therapy, meaning psoriasis is inadequately controlled by topical treatments (corticosteroids), and/or phototherapy, and/or previous systemic therapy. Eligible participants will have regular visits with an experienced research team. There is no cost to participate, and participants will be reimbursed for study-related expenses.
Individuals will be asked to visit the study centre about 15 times over a period of about 76 weeks.
Efficacy and Safety Study of Tildrakizumab in the Treatment of Nail Psoriasis – Full Text View – ClinicalTrials.gov
For more information, please contact:
Principal Investigator
A/Prof Peter Foley
Sub Investigator
Dr Jackie Nguyen
t: 9623 9464
e: [email protected]
Study Coordinator
Irina Danilovich
t: 9623 9448
e: [email protected]