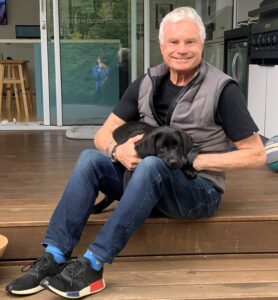 Martin King is a child of the 50s and grew up typically Australian. Hot summers spent down at the beach or fishing in a dinghy wearing next to nothing. At that time, there was no such thing as sun protection – sunblock hadn't even been invented yet. "There were no hats, no sunglasses, no sunblock, no shirts, no shoes," says Martin. In fact, the family doctor used to tell his mother to take all the kids clothes off, cover them in olive oil, and send them out in the sun, "we used to just baste and bake in the sun like rotisserie chickens," he remembers.
With Martin's English/Irish heritage, he was a "sitting duck" for skin cancer. He recalls that back in the day sunburn was just a part of life. His sisters used to argue about who was going to peel his skin off. One sister would do his front, the other his back and he would do his nose and ears. It was terrible, but it was life.
There was no such thing as after-sun care, it wasn't even thought of, "I just remember, so many nights going to bed in such agony from such severe burns. My skin was burning and hurting. No wonder my skin now is compromised." With the pain and severity with which Martin describes his burns, and they are in fact second degree burns, it is no wonder that he has sun damaged skin now in his early 70s.
Back then no one said 'you must wear hats'. When Martin picks his grandchildren up from school, every child in the school has a hat on, "morning tea, lunchtime, after school, they'll walk out with their hats, they're just used to it."
Martin found the Skin Health Institute through his dermatologist, after identifying a spot of concern on the back of his hand. He had been getting flaky skin in that spot and for two years it kept coming back. His dermatologist, Dr Webb had identified a Basal Cell Carcinoma (BCC) on his forehead, and she didn't like the look of his hand either. She ended up treating it and taking it out. Martin notes that he "thought it was just damaged skin or sun damaged skin." When it ended up being squamous skin cancer, he was glad the decision was made to remove it, "otherwise I'd still have it and it'd still be bugging me, and it'd get worse and worse and worse and who knows where it could have ended up."
Of his experience at the Skin Health Institute, Martin felt a lot more comfortable than he thought he'd be. The reception staff were friendly and engaging, while the nurses were supportive before during and after. Martin notes that he's not a good patient, "I don't like pain. The thought of what they were doing to me was just awful. I didn't like it at all, but they made my experience the best it could be."
Martin underwent the Mohs procedure, which is a highly technical, micro-surgical technique used to treat skin cancers. Mohs surgery is the most exact and precise method of tumour removal, which offers the highest potential for complete removal of the cancer while sparing the surrounding healthy tissue. He says that during the procedure it was "pretty onerous" but now it's great. The skin graft is repairing well as he previously had a massive hole in his hand where the cancer had been removed.
Overall, it was a positive experience as Martin is no longer ashamed of his hand. "I used to hide my hand or put my other hand over it just to hide it. I'm really pleased now I don't have to do that anymore."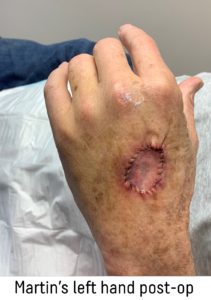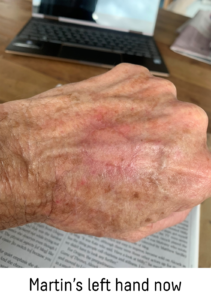 Since undergoing surgery, Martin is regularly checking his own skin and is quick to make an appointment with a skin specialist if something seems unusual. His attitude is, all he can do is "get it early and get it sorted."
Although he has encountered his first skin cancers now, his sun behaviour has been very sensible for the past 25-30 years. "The first thing I do when I wake up, I wash my face with water, then I put moisturiser on my face, then once that's dried off a bit, I put sunblock on."
He covers up all the time and wears long sleeves on walks, especially since the skin on his forearms is quite damaged and very sensitive to the sun. Martin also makes sure to put sunblock on the back of his hands, on the back of his neck and, importantly, his ears. Thinking back, he says, "God I never used to do my ears, I'd do my face and just leave my ears and then I had sun damage on an ear. I thought, I couldn't bear having one ear or having an ear amputated so now I do my ears very religiously."

"And I've stopped wearing baseball hats which I think are a mistake. They partially help you, but they don't help your ears and the back of your neck and down the sides of your face. So, I wear broadbrimmed hats now."
Martin's skin specialist has also warned him of the dangers of eyelid cancer, so he wears sunglasses as much as possible too and he's buying new sunscreen every couple of months as he uses it so regularly. "I just try to be very mindful. I wish that back in the day I could have done the same thing, but we didn't have the education, there was none. But now we've got the education and still a lot of people don't take any notice of it."
Thinking of young people, Martin believes "they want to look good, and they'd rather put looking good ahead of their good health or their good skin health. They think they're invincible, it won't happen to me. They just don't think about it."
Years ago, Martin's dermatologist said to him, "remember that a good tan is bad for your skin, it's damaged skin. It might look good, but underneath it's not. [Young people] think they look fantastic, but they don't realise tanned skin is damaged skin."
When Martin thinks about his skin cancer and the sun behaviour of everyday Australians, his attitude is, "do the right thing by your skin before it gets too late. Treat your skin like you're a newborn baby and it's precious because it is."
We asked Martin if he would come back to the Skin Health Institute, and it was a resounding yes, "it would be my first port of call," he says. "I could say I never want to see you again but that would be rude, I would say I hope to never see you again."
09 December 2022