Skin Health Institute recognised at ACD ASM 
During the highly anticipated Australasian College of Dermatologists Annual Scientific Meeting (ACD ASM), the outstanding achievements of the dermatology community including several Skin Health Institute (SHI) staff and consultants were recognised.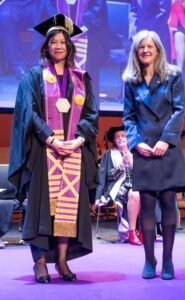 SHI Consultant Dr Michelle Goh was appointed as the ACD Chief Examination Officer. Registrar Dr Dale Jobson was acknowledged with the Adrian Johnson Prize, awarded for the best publication by a trainee in the esteemed Australasian Journal of Dermatology, and Dr Seamus McWhirter and Dr Blake Mumford, who were recognised for their outstanding presentations at the conference.  
Congratulations to new ACD President Dr Adriene Lee, who was officially instated at the AGM succeeding Immediate Past President Dr Clare Tait, who has completed her two-year term in the role. 
We would also like to extend our congratulations to Dr Adrian Lim, the newly appointed President-Elect of the ACD. 
Additionally, we would like to acknowledge the dermatology registrars who have become Fellows of the ACD. 
At the concurrent ADNA Conference, our nursing staff also received
well-deserved recognition.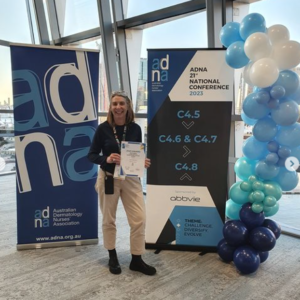 Sue Anderson was honoured with the Excellence in Dermatology Nursing Award, reflecting her exceptional dedication and commitment to providing top-quality care to patients and nurse education.
Additionally, Jane Duncan received the Best Poster Award for her poster titled "Overview of Biologic Drugs Prescribed by Dermatologists to Treat Psoriasis in the Adult Australian Population," showcasing her valuable contributions to dermatology research.
These achievements not only highlight the excellence of our team but also reinforce our commitment to providing exceptional care and advancing dermatological practices. Congratulations once again to all the deserving award recipients and new Fellows of the ACD.