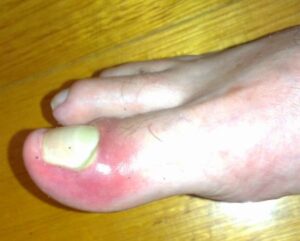 Overcoming recurrent paronychia
"When I first went to the clinic, I really did feel that I was with people that knew what they were doing."
Michael Smith's journey from detection to diagnosis to surgery began in June 2021 when he noticed a small, tender lump on his toe. Initially, "it didn't cause a lot of grief, but it was clear that something wasn't right." It was sore to touch, so Michael made an appointment with a GP, but unfortunately, his initial referral didn't lead to the specialist care he needed at that time. The GP prescribed Michael antibiotics and sent him on his way.
The antibiotics did help for a time, but then Michael experienced what could only be described as a "yucky" flare up in October 2021.
Michael works in a public library, a position that requires him to spend a significant amount of time on his feet. He found himself impacted in his day-to-day as "it's not all sitting at a computer or a desk, there's an element of that, but probably about half our time is spent on the public floor," he says. He was suffering some pain from the pressure applied to the toe and ended up needing to wear sandals for the next six months. He recalls, "that's where it was a bit difficult because technically, you're supposed to wear shoes at work not sandals."
As the issues continued to build up over time, they began to impact not just the toe but his ability to walk. He was "sort of hobbling a bit and overcompensating on one side … because that continued for a while it did impact just getting around. Not in an overdramatic way, but because it did go on [for months and months], you're overcompensating on the good leg [to ease the pressure on the toe].
It then became obvious to Michael that his condition wasn't improving with antibiotics. This led him back to the GP to seek a referral following a conversation with a colleague who suggested that a dermatologist might be the specialist he needed.
Sadly, for Michael, this was just the beginning of not being able to find timely appointments with various health professionals. He thought his podiatrist might be able to shed some light, but he couldn't get into see him. He also had to wait to see his local dermatologist.
Michael reflects that he "suffered a bit of a lack of continuity with care." His dermatologist left the state but was able to refer him to the Skin Health Institute.
Eventually, Michael's toe became so infected that he presented at John Faulker Emergency Department, and they removed the toenail. Things seemed to improve from there, but then he "noticed some soreness at the top of the toe which was a bit like the original issue back in 2021."
He attended the Institute in April 2023, where he had a consultation with A/Prof Anne Howard and Dr Marguerite Seith. He received a diagnosis of recurrent paronychia, a condition that arises when bacteria or fungi infiltrate the skin around the nails, leading to painful inflammation and swelling.
Given the history and its chronic nature, Anne and Marguerite made a decisive recommendation for a surgical procedure to narrow the toenail to prevent further recurrences. Michael underwent the procedure in June 2023 with Professor Johannes Kern, assisted by Dr Sara de Menezes.
Michael was very pleased after that consultation in April. A decision had been made and "they had a solution that looked like a permanent fix for the issue."
Reflecting on his journey, Michael stressed the importance of seeking specialist advice and diligently following treatment recommendations, "you've just got to seek specialist advice. Don't ignore it … you do need to do what you're told in terms of treatment … even if you don't end up with the result you hope for, you've just got to do exactly what you're told by the experts. And sometimes it might not go totally as planned but that's just the reality."
Michael did express frustration regarding his prolonged healthcare journey and the challenges of obtaining timely specialist appointments. Yet, he recognises the crucial role healthcare experts played in his recovery, "when I rang up in March this year, and my referral had expired, this is where the positive story kicks in 110%, knowing the history, I was seen in a timely manner."
Since undergoing the procedure, life has returned to normal for Michael. Sara commented to him, which came as a bit of a shock, "you've just got to treat the toe normally now". The condition, having been chronic for 2 years, had caused Michael to live a certain way so things "just sort of revert back. Not having to bath it or faff around with it, you get that time back. But it's a bit of a readjustment as you're used to faffing around with it. "
In Michael's recent experience, all the staff were fantastic, "from the admin people, when I first rang up my referral had expired, they explained that and they did make a timely appointment, and then when I came in, the nursing staff were all very good too. The nurse who was on duty the day of the procedure was fantastic. A lot of that bedside manner is important as well. I know a lot of the doctors have the knowledge but it's something that they do every day, or versions of everyday. For patients and people, it's not our everyday experience and that bedside manner is very important. I work in a public library, so I get that, people don't like being treated like a number."
Michael was very complimentary of his experience post-procedure, "After the procedure, I was given a number to ring if need be. I didn't, but I felt very supported … I felt I didn't need to ask a lot of questions because they were pre-empted by the staff. Whether it was Sara or Johannes or the admin staff. You don't go away thinking I should have asked this …verbally and written follow up was very good. She [Sara] had a lovely bedside manner you know just really lovely in the way she explained and communicated things so there's a lot of trust.
That's what it is about, being felt supported and taken care of."
Michael's road to recovery demonstrates how significant an early diagnosis can be and the pivotal role specialists like dermatologists can play in managing chronic conditions. His story also highlights the importance of direct referrals from GPs to experts so that patients may receive that early diagnosis and treatment from highly skilled individuals, "I always felt that as soon as I was at the clinic, I was in good, capable hands. I lost a bit of faith in the GP, but it was out of their scope."